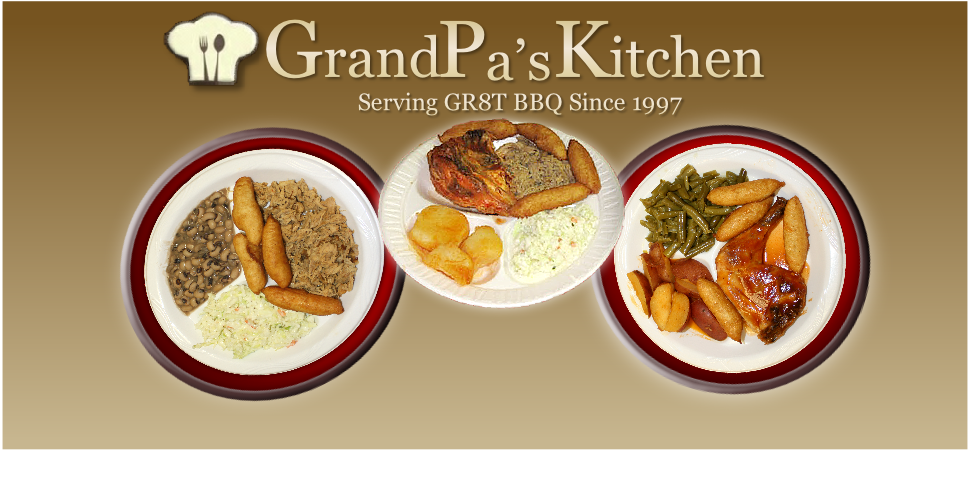 All Major Debit And Credit Cards Accepted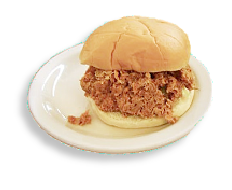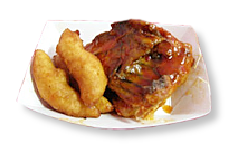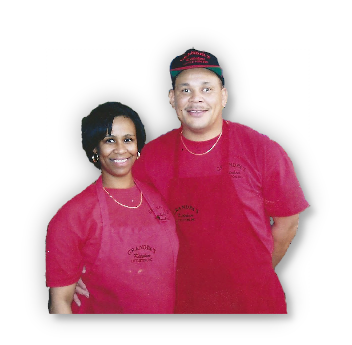 P.O. Box 9 • 149 E South Main Street • Littleton, NC 27850 252.586.3211 • gr8tbbq@Grandpaskitchennc.com
Copyright © 2012 GrandPa's Kitchen. All Rights Reserved.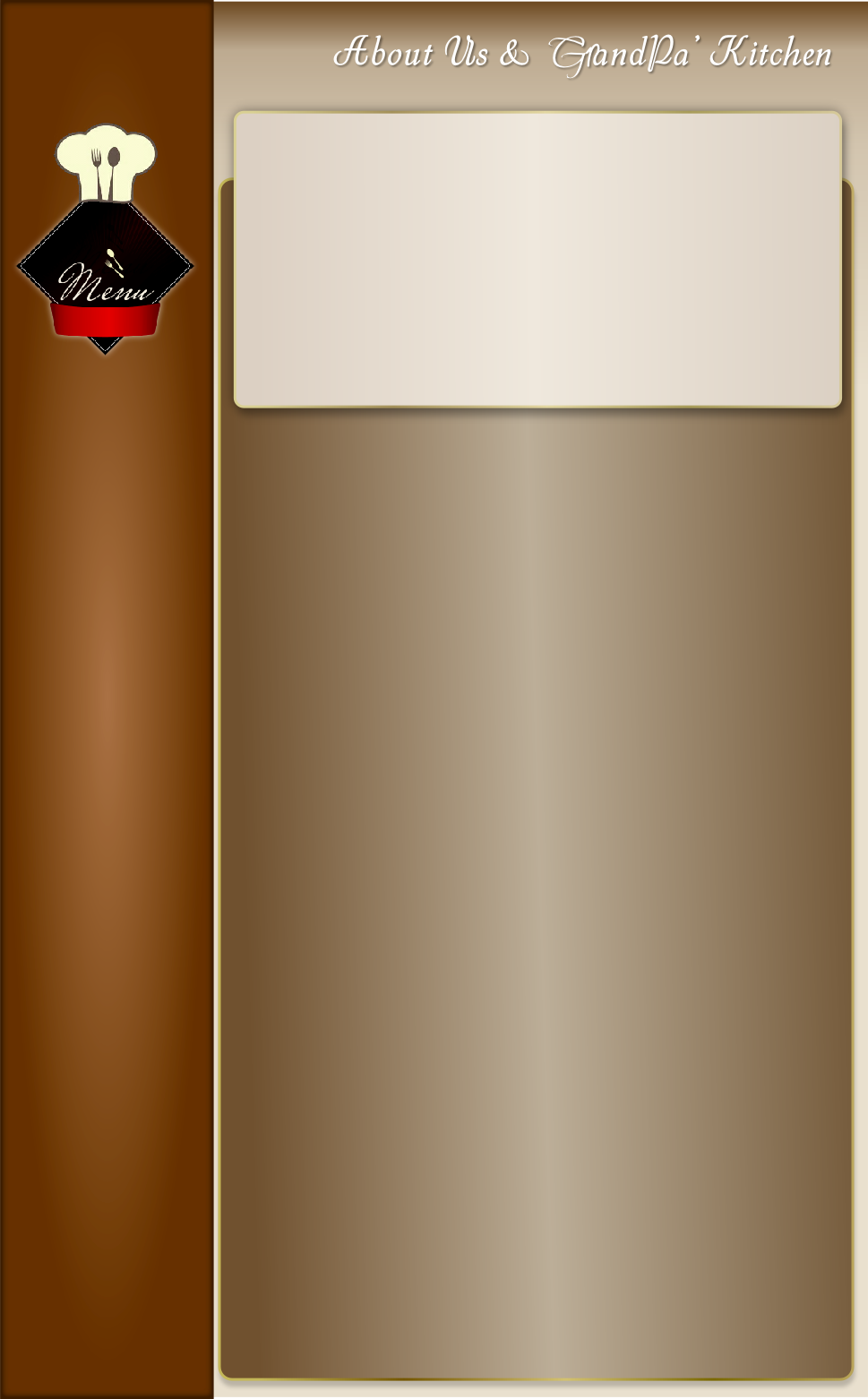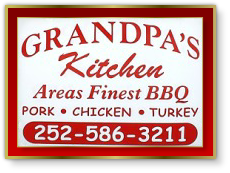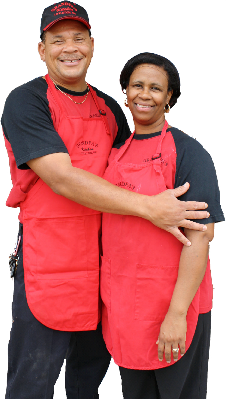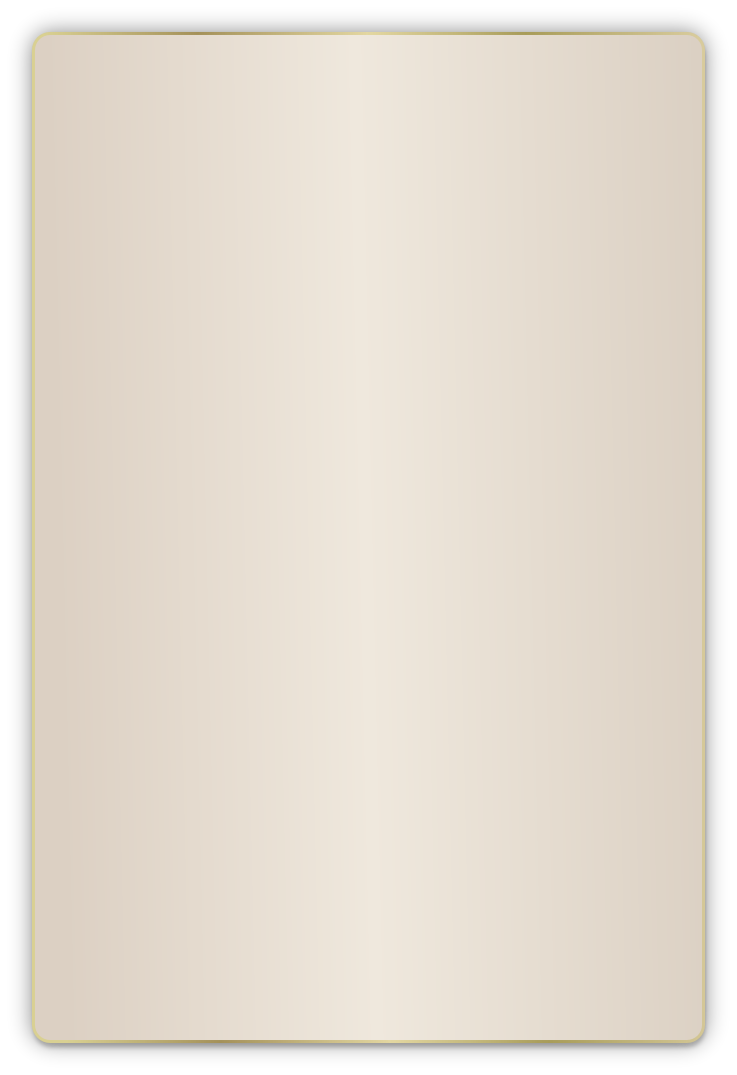 Inspired by the promise of God to bless all work of thine hands. GrandPa's Kitchen, a family operated restaurant, was founded in 1996 as a vision without a name. GrandPa's Kitchen became a dream come true on January 17, 1997 when it opened its door t serve the Area's Finest Barbecued Pork Chicken, and Turkey.
Grandpa's Kitchen, a restaurant owned by Jeffery Allen Mills and his wife Jonnell, is a family run business, brought to Littleton in 1997 because of the couple's strong desire to return to their home town area, so that their children could grow up close to their relatives. Jeffery, originally from Littleton, and Jonnell, from Roanoke Rapids, both attended Northwest High school, where they met, became sweet hearts and graduated in 1984.


Jonnell attended UNC Greensboro and earned her BA in Biology, while Jeffery went to school and became an engineering analyst for the shipyard in Newport News. Once married, the two made their home in Newport News, and soon started a family. Their first daughter, Jade Alexia Mills, was born in 1994. The very next year, Jeffery, Jonnell, with some partners, started up the first Grandpa's in Snow Hill, while maintaining their jobs in Newport News and commuting on the weekends. Having a strong desire to move closer to home, a vision that was
"inspired by God," both Jeffery and Jonnell began combing the area of Roanoke Rapids and Littleton looking for a place to open another Grandpa's restaurant.
After searching for a new location, still running the restaurant in Snow Hill and commuting from their jobs in Newport News, Jeffery, Jonnell and their then two year old daughter found a vacant building in Littleton owned by Conway Williams. It just so happened to have been a cafe and only needed cosmetic work and a modern Kitchen to get it going. Their dream of settling down in their home area wit a business was to become a reality.
Five years later, Grandpa's Kitchen has become one of Littleton's frequently visited restaurants, offering both an indoor diner and catering for business and private parties.
Looking back on the last 15 years of owning the business, Jeffery and Jonnell are amazed at how their expectations have been surpassed. They are able to give their complete attention to the restaurant and have relocated to Littleton giving up their jobs in Newport News, "You just trust in the Lord, and take it one day at a time," said Jeffery.
The couple has been blessed with two other daughters since opening GrandPa's Kitchen in Littleton, Jiona Alexia, and Jalen Alexia. Jeffery would encourage anyone with an idea to go with
it, the opportunity can pass you by if you procrastinate. "Running your own restaurant is demanding, you just have to respect it as a Job."
According to Jeffery, he has had great employees and lots of support from both their families since opening Grandpa's. "We refer to all of them as Angels here on earth," he said, continuing, "I'm extremely thankful to Jonnell for her support as my wife and my business partner.
"A just description of Littleton would be a flower garden...if you stop and spend some time, you will see where the flowers bloom. In other words, it's impossible to see what Littleton has to offer when you are passing through," Jeffery says.
So, stop awhile and visit them at grandpa's and the other businesses in town, and experience the true meaning of the slogan - "Littleton, the little town with the big hearts."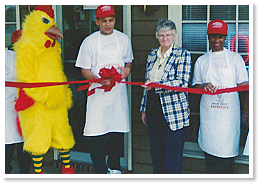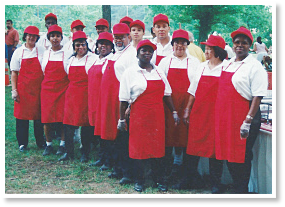 Grand Opening Ribbon Cutting Ceremony, 1997

The Mission of this family can be found in Scripture, "Let your light so shine before men, that thy cay see your good works and glorify your Father in heaven." Mathew 5:16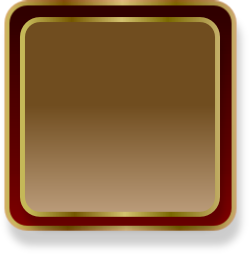 GrandPa!
I flew all the way in from Oklahoma just for the BBQ and it was terrific. Jesse James would agree.
B. J. Wilmet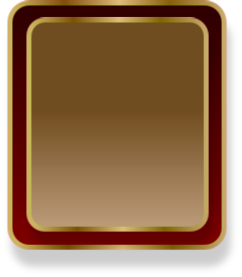 I've never met GrandPa, but I'm sure he is a great man because the BBQ is GR8t! and the service is outstanding.
Go GrandPa!!!
John Hunt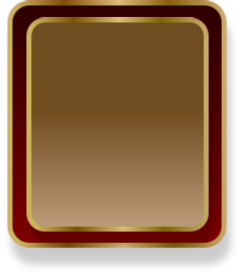 The Chicken at GrandPa's is so good it will make a glass eye cry
Delmas Rose Henderson NC